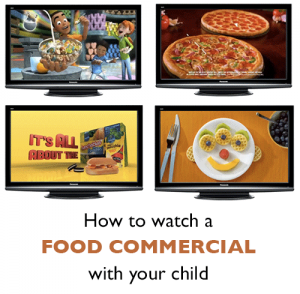 Children ages 2 – 7 see an average of 12 food ads per day, or 4,400 in a year. Older children (8 – 12) see almost double that amount. Nearly half of all ads shown during children's programming are for food. These are figures from a recent study by the Kaiser Family Foundation, which reports that "34% [of these ads] are for candy and snacks, 28% are for cereal, and 10% are for fast food."
As parents already know, these ads work. Children request advertised food more often, and they even preferred the taste of branded food in an experiment that used identical foods, one sample with a fast food label and one without.
Even with the most rigorous monitoring of media content, kids are bound to see food ads sooner or later. How can parents help their children view these ads critically?
Watch the ads together, and talk about them. The simple act of 'co-viewing' and talking about the ads encourages children to engage with the ads rather than passively 'consume' them. So what should you say? Here are some suggestions to get a conversation started.
Ask how the ads make the food look appealing. Children might need some prompting on this question, depending on their age. If it's an animated ad, a cereal might be made to look 'magical,' as it can fly or sparkle. In an ad for Lunchables, the child eating the product might be portrayed as especially popular among peers. In a fast food ad, everyone might be shown having a good time and laughing. Encourage children to identify ways the ads make the food look 'cool.'
Ask how the food looks in real life. This is especially useful with regard to fast food ads, which feature styled food that is wearing a lot of 'makeup.' If the child has ever ordered that food in a restaurant, s/he can see that it doesn't look the same as it does in the ad. Encourage children to compare the two, as it helps them recognize that commercials are not necessarily realistic.
Ask what's in the food. This is an ongoing question, one that is best asked later on in the kitchen, or even the grocery store. Read nutrition labels for advertised foods with children, and help them understand what's in it.
The key to watching food commercials with children is to encourage them to ask questions, rather than giving them a 'lecture' or telling them what's good or bad. When you encourage them to view an ad critically, you're helping them to develop a skill they can apply to other ads in the future.