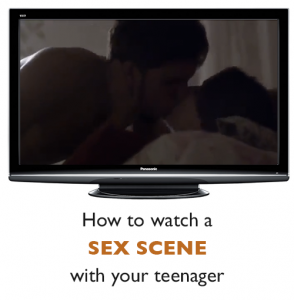 This is definitely in the Top 10 Awkward Parenting Situations. Maybe you've already talked with your teen about sex, or maybe you've yet to do so. Regardless, it's inevitable that at some point, you'll be watching a movie or a TV show together, and you'll see characters on screen doing THAT.
So what's the big deal? Why not take a bathroom break, talk about something else, pick up your phone, or do anything to try to gloss over the fact that both of you would rather not be watching a sex scene together? Here's why: Because it's a valuable way to start a tough but needed conversation.
If s/he is typical, your teenager sees a lot of sexual content in the media, on TV, online, in music videos, movies, and even some video games. To simplify a bit, let's focus on TV. Of the 20 shows most popular with teens, '70% include some kind of sexual content, and nearly half (45%) include sexual behavior.' This is according to a 2005 study by the Kaiser Family Foundation.
And some of the messages about sex sink in, for better or worse. The Kaiser study found that 'nearly three out of four 15- to 17-year-olds say sex on TV influences the sexual behaviors of kids their age.' Those TV shows do not necessarily depict the consequences of sex; in fact, of teens' favorite programs, only one out of ten shows with sexual content includes a reference to sexual risks or responsibilities, such as STDs or contraception.
So what should you do in this uncomfortable situation?
Keep it light-hearted. We were all teenagers once, and I for one remember wanting to crawl between the cushions of the couch until the sex scene was over and I could look my mom in the eye again. Don't try to have a Talk with your teenager at that moment unless s/he seems open to it. But you can still encourage her/him to think critically without making it a big production.
Say, "I hope they're using condoms." Or "I wonder if both of them have been tested." Simple comments like these can get your teen to think about the consequences of sex that are probably not being portrayed in the program or the movie.
Say, "Do you think they'll make good parents?" Few things disrupt the viewing of a sex scene like the thought of accidental pregnancy. Some teens think about it, but many do not, and most TV shows about sex (between teens or adults) don't address it.
Say, "It seems like all these kids are hooking up with each other all the time. Is that realistic?" This may be Advanced Parenting 101. Only you can know how your teen might react to this question. But if it's possible to have this conversation, do so. Some shows and movies about teenagers depict them as far more sexually active than teens are in real life. Posing this question may help them talk about pressure they feel, either from their peers or from the media.
It's uncomfortable for sure, but taking advantage of conversation-starters like these can help your teen process media messages about sex with a critical eye, and make more informed choices in the future.