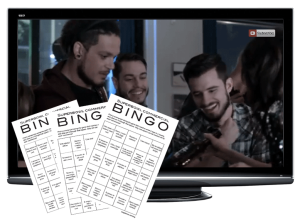 It's that time of year again. This Sunday, make watching the big game a teachable moment for your kids. Encourage them to watch the commercials more closely and critically than they usually do, and to identify ways that the advertisers try to get their attention.
Download this free 4-pack of bingo cards. Each card has a unique mix of 25 squares, which are individual elements they might see in a commercial. Two examples are: "Features a celebrity" and "Makes unbelievable claims about a product." They're parent-approved as appropriate for kids age 10 and older.
As they watch the game, kids can draw an X over a square when they see a commercial that matches the element in it. Prizes can be given for a row and/or a 'blackout' when the entire card is filled in. Parents or teachers can use this game as a conversation starter to get kids talking about what they saw in the commercials. For suggestions, download the parent/educator guide.