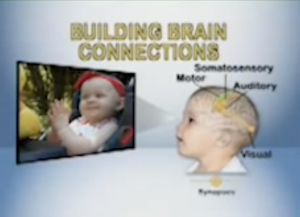 You might remember the best-selling DVD set, 'Your Baby Can Read.' The multi-volume kit came with flash cards and a picture book presumably meant to reinforce the lessons on screen. TV commercials for the product used pseudo-scientific diagrams to suggest that babies' fast-developing brains are ripe for this kind of instruction. The company implied that infants as young as 9 months could recognize words after watching the videos and using the accompanying materials.
The makers of 'Your Baby Can Read' went out of business in 2012, after a complaint was filed with the Federal Trade Commission by the Campaign for a Commercial-Free Childhood. NBC's Today show featured an investigative report that questioned claims made about the product. In the midst of all the controversy, researchers at NYU conducted a randomized trial to see if the product lived up to its claims, and – because academic publishing moves at a snail's pace – those results have just come out.
The study tracked 117 infants (ages 9 to 18 months) over a period of 7 months. Parents of infants in the test group used 'Your Baby Can Read' according to the makers' instructions, so each infant would watch 70 hours of DVD training and receive 45 hours of interaction using the flash cards and picture books. The researchers measured the outcomes in multiple ways, and found no significant difference in developmental reading skills between the test group and the control group.
Claims implied in the TV commercials, that babies who had used the program could recognize words and respond to written directions (e.g., 'clap your hands!') were not supported by the study's findings.
Did the program likely do any damage to infants? Probably not, but sitting a baby in front of a DVD for 20 minutes a day goes against recommendations by the American Academy of Pediatrics not to use screen media for children under age 2.
The next time you see an 'educational' media product making claims that seem too good to be true, remember: they probably are.